I believe the reason you are seeing a large number of investors is due the investment returns. Not real estate investment returns but certificates of deposit returns. When the bank pays you less than 1% interest rate per year you start looking for better returns. Unfortunately, real estate is an investment not an capital preserving savings account.
Thursday, 29 Mar 2012 | 11:11 AM ET By: Diana Olick
The number of homes sold to investors more than doubled last year, as rising rents and low-priced distressed properties fueled demand. Investors, half of them using no mortgage, bought 1.23 million homes in 2011, a 65 percent jump from 2010, according to the National Association of Realtors. Half of the homes purchased were distressed properties, that is, foreclosures or short sales (when the bank allows the home to be sold for less than the value of the mortgage).
"Rising rental income easily beat cash sitting in banks as an added inducement," says NAR's chief economist Lawrence Yun. "In addition, 41 percent of investment buyers purchased more than one property."
Half of investment buyers said they purchased primarily to generate rental income, according to the Realtors' report. 34 percent wanted to diversify their investments, as 2011 saw a volatile stock market due to the debt crisis at home and overseas.
While nearly half of investment buyers said they were likely to purchase another property within two years, housing and mortgage analyst Mark Hanson calls them a "thin cohort" and worries that they add ever more volatility to the current housing recovery.
"They are fickle and volatile. They will go away on the slightest of conditions changes. They also won't chase prices higher or buy new homes from builders. Lastly, without the heavy flow of distressed supply, there is no U.S. housing market recovery. Distressed sales ARE the market," says Hanson.
Foreclosure supply is still running high, with 65,000 completed foreclosures in February of this year, according to a just-released report from CoreLogic. 862,000 foreclosures were completed in the twelve months ending in February. While there are still 1.4 million homes in the foreclosures process, all of these numbers are coming down, albeit very slowly, and sales of bank-owned properties (REO) are speeding up.
Even the Realtors are concerned, like Hanson, that new programs by the government and banks to sell foreclosed properties in bulk discounts to large-scale investors, will cut off a robust individual sales market for smaller investors.
"Small-time investors are helping the market heal, since REO inventory is not lingering for an extended period," says Yun, clearly looking out for his Realtor constituents. "Any government program to sell REO inventory in bulk to large institutional companies should be limited to small geographic areas."
Fullerton Overview
Median home price is $369,000. Based on a rental parity value of $525,000, this market is under valued.
Monthly payment affordability has been improving over the last 3 month(s). Momentum suggests unchanging affordability.
Resale prices on a $/SF basis increased to $237/SF to $240/SF.
Resale prices have been weak for 12 month(s). Price momentum suggests weak prices over the next three months.
Median rental rates increased $0 last month from $$2,216 to $$2,216.
Rents have been slowly rising for 3 month(s). Price momentum suggests unchanging rents over the next three months.
Market rating = 4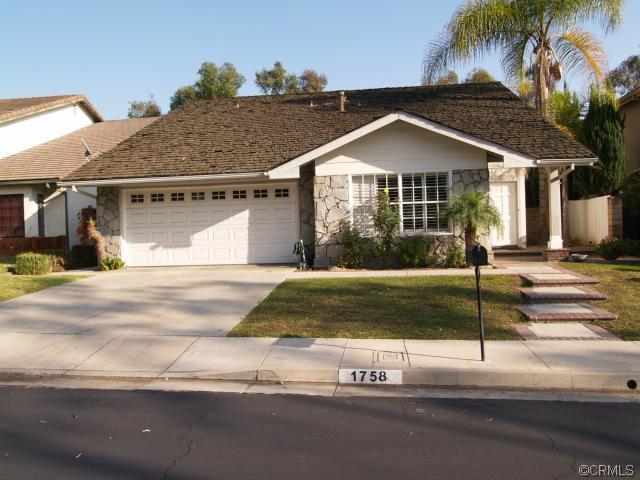 Proprietary OC Housing News home purchase analysis
1758 BERKSHIRE Dr Fullerton, CA 92833
$470,000 …….. Asking Price
$610,000 ………. Purchase Price
12/14/2004 ………. Purchase Date
($140,000) ………. Gross Gain (Loss)
($48,800) ………… Commissions and Costs at 8%
============================================
($188,800) ………. Net Gain (Loss)
============================================
-23.0% ………. Gross Percent Change
-31.0% ………. Net Percent Change
-3.5% ………… Annual Appreciation
Cost of Home Ownership
——————————————————————————
$470,000 …….. Asking Price
$16,450 ………… 3.5% Down FHA Financing
4.03% …………. Mortgage Interest Rate
30 ……………… Number of Years
$453,550 …….. Mortgage
$122,727 ………. Income Requirement
$2,173 ………… Monthly Mortgage Payment
$407 ………… Property Tax at 1.04%
………… Mello Roos & Special Taxes
$118 ………… Homeowners Insurance at 0.3%
$472 ………… Private Mortgage Insurance
………… Homeowners Association Fees
============================================
$3,170 ………. Monthly Cash Outlays
($338) ………. Tax Savings
($650) ………. Equity Hidden in Payment
$23 ………….. Lost Income to Down Payment
$138 ………….. Maintenance and Replacement Reserves
============================================
$2,343 ………. Monthly Cost of Ownership
Cash Acquisition Demands
——————————————————————————
$6,200 ………… Furnishing and Move In at 1% + $1,500
$6,200 ………… Closing Costs at 1% + $1,500
$4,536 ………… Interest Points
$16,450 ………… Down Payment
============================================
$33,386 ………. Total Cash Costs
$35,900 ………. Emergency Cash Reserves
============================================
$69,286 ………. Total Savings Needed
——————————————————————————————————————————————-
This property is available for sale via the MLS.
Please contact Shevy Akason, #01836707
949.769.1599……
sales@ochousingnews.com…..

We're sorry, but it seems that we're having some problems loading MLS # C12038288 from our database. Please check back soon.
---
---
Competing Listings
$599,000
1716 CHANTILLY Ln
0.17 miles
3 bd / 2.5 ba
2,244 Sq. Ft.
$540,000
2210 CAMINO CENTROLOMA
0.34 miles
4 bd / 2.5 ba
1,915 Sq. Ft.
$557,900
3021 East SORANO Pl
0.38 miles
3 bd / 2.5 ba
1,739 Sq. Ft.
$580,000
2126 FOXWOOD Pl
0.74 miles
4 bd / 3 ba
2,070 Sq. Ft.
$525,000
541 TEAKWOOD Ave
0.78 miles
3 bd / 2 ba
1,832 Sq. Ft.
$460,000
321 LATCHWOOD Ln
0.86 miles
3 bd / 1.75 ba
1,700 Sq. Ft.
$549,000
1343 BECKMAN Ct
0.93 miles
3 bd / 2.5 ba
1,820 Sq. Ft.
$689,000
2504 ROYALE Pl
0.93 miles
4 bd / 2 ba
2,098 Sq. Ft.
$465,000
621 SANDLEWOOD Ave
0.98 miles
3 bd / 1.75 ba
1,875 Sq. Ft.
$583,900
3028 East WALKING BEAM Pl
1.21 miles
4 bd / 3 ba
2,001 Sq. Ft.
---
For more news, market analysis and property profiles, please see the
OC Housing News.
---